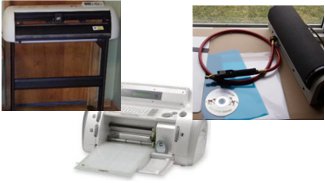 So nice of you personally answering my message about the Cricut machines. I mentioned SCM because someone posted on a forum about selling one of their systems. It sells for $2400, and she was asking $1500. Yesterday I got her down to $1000 and am going to take it.
I just have to buy the film. Everything else (supposedly) is included. She bought it from someone who only used it for 4 months and then she NEVER used it. I hope I am making a good move. The main thing I liked about hers was all the video instruction and marketing details as well as the photo stencil system.
Yes, with those Cricuts, you can now buy "Sure Cuts A Lot" software and can do any design with it. You have to get a deep cut blade to do the thicker vinyl. I had one but re-sold it. Now I will be able to use this photo stenciling system which alone, on their site is $700.
I was using a stencil making system from Martronics to do custom stencils, but they are only for the typical cream, not sand. I really want to do deeper carvings. I mainly want to work with glass but occasionally do other surfaces. I have no experience with sandblasting, but I am artistic so hopefully it will come easy. I did carving with a rotary tool in the past for texture, but it looks amateur.
I like the links you sent me. Put me on your mailing list if you have one. Always interested in info about glass work and saving money!
Thanks for a great e-book, by the way!
Vivian
Hi Vivian, that sounds good. If you can get the SCM system used for that low of a price, I would probably go for it too.

I wish the best for you and your sandcarvings. This isn't the best tutorial but here is a 2 stage carving example on my blog.

Feel free to keep me updated on your work, as well. I also feature peoples work on my blog here: http://www.glassetchingsecrets.com/blog/category/glass-art-spotlight/

-Eric
---
Share this on social media or email by clicking below!