Here's some more answers to questions I got in my email from Dianne.  These are all great questions, and I appreciate them because it provides great discussions.
She showed me an image of a etching that was being sold through ebay.  Although, I wish I could post the image so everyone can post their views and understand what I am talking about, it's a copyright protected image, so I'll explain from a different pattern example.
As she suggested, the glass that she showed me might be etched using an acid.  The mug looked nice, but it's was hard to determine from the small image.  It had an interesting look, and it appeared as if the majority of the design was sandcarved into the glass.  From what it seems, the internal areas seem to be frosted lightly.  There are many different techniques that could be used, and here are just some ideas of what they could have done by referring to the example pattern below: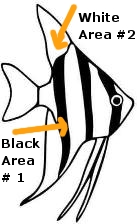 Usually, you will have a black area and a white area of a pattern.  By using a two stage technique, the whole graphic is etched including the black and white areas.  This is a very simple pattern found on here for free.  It depends on the processes used and the etching technique is probably one of the following variations:
Using Acid Etching Processes– The glass can be carved deeply into the # 1 black areas with a strong acid.  Then the # 2 white areas of the pattern could be lightly frosted with a less potent cream.  This can also be done in a vice versa fashion.
Using Sandblasting Processes– The other process could be done by sandcarving the glass pattern's # 1 black area.  Then the #2 white areas can be sandblasted lighter with a reduced air pressure.
I hope that helps and I talk about it more in the information manual.  Feel free to leave me a response below or any other questions anyone has.  Take care.
---
Share this on social media or email by clicking below!