Customer Question about Vinyl Cutters for Sandblast Etching: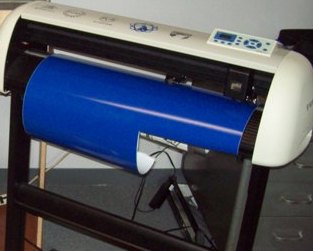 I need your input when talking to UsCutter about printers, and they are saying the printer you recommended in your book would not work out for etching and sandblasting as the "stepper motor will slip and not hold quality results"  The one needed is "$1000.00"
We would like your input for a start up plotter cutter with detail quality, sounded like to me a salesman looking for a commission.
My Response about the Vinyl Cutters:
Hi,

While the salesman could be looking for a commission, I doubt it. He probably just wants the best for you.

The cutter I talk about does cut fairly detailed graphics, but when you start using thicker resists (greater than 10 mils for deep sandblasting) its harder to cut very fine details.

He is right; the inexpensive cutters with stepper motors aren't recommended for thick sandmasks.

I mentioned using an inexpensive 3 mil vinyl (I use that stuff 90% of the time and still works great for me) with a finer grit. And if you are carving deeper, I will double it up before cutting it. It's your call, but you can see some of the details the cutter will do in this etching.

While the $1,000 cutter will be a lot better, a person on a budget may be fairly happy with this cutter.

Also, thank you for your purchase. I hope this information helps.
---
Share this on social media or email by clicking below!