Doug Kelly is our first etcher to be featured on the blog in quite a while. He shared these four jar etchings that he did which seems to depict the old west or country feel. This can be an interesting theme to etch and the jars is another idea I've never etched!
He also shared this information about his setup and what settings he uses:
I like etching glass canisters. I use a 230 grit that can be used about 60 times and gets sharper with use. I can get most everything done in one slow pass. Built my own booth out of a large plastic bin from Home Depot ($15), cut top for viewing, have heavy duty gloves, positive air flow, light weight vacuum and a 3 gallon pancake air compressor. I use about 70 Psi. I find the most difficult thing is getting the vinyl on straight.
Cowboy Riding a Horse Etched on Jar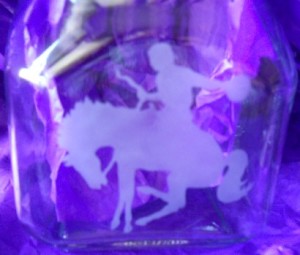 A Horse Etched on Jar- it looks like he etched in layers here to show some contrast with the head turned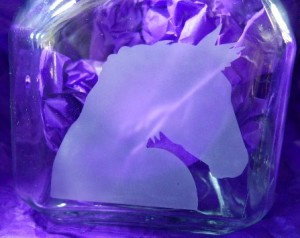 Western Boots Etched on Jar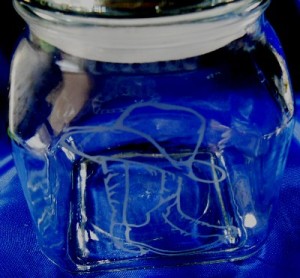 ---
Share this on social media or email by clicking below!