Another subscriber sent me a slightly different LED example. Ron was happy to share his NASCAR etching with Jimmie Johnson's logo here on the blog. I thought it would be good to share this with everyone else also because it is slightly different from the other two previous posts: Framed LED display here and the framed mirror display here.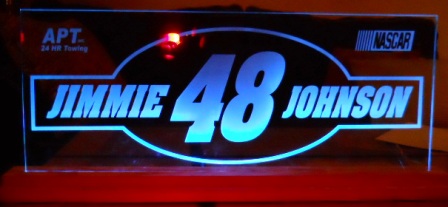 As you can see, Ron's display is simply a single wood base. All you have to do is use a router to make a groove just large enough for the glass to slip into the wood. Then place the led strip at the bottom of the groove.
You can drill a hole from the side of the wood into the groove to place your electrical wires through. Then just make the wood look nice by using a wood stain and possibly coat it with polyurethane.
Ron told me that the glass he used is tempered, and the LED strip comes with a remote so you can change colors, strobe, etc. I actually bought a fairly inexpensive long strip that does the same from amazon here. It's really cool!
---
Share this on social media or email by clicking below!