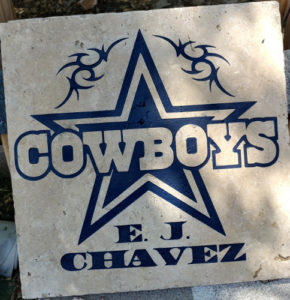 We featured Gilly Saucedo a couple weeks ago here. He was nice enough to share some of his other work in this post of engraved designs done on concrete and stepping stones, and these are really cool. I though others might benefit from this post because it isn't talked about as much as carving designs into natural rocks. We will eventually be discussing this in the rock blasting member's area.
The great thing about sandcarving these type of items is they are:
flat and easy to get a stencil on
consistent in size and shape so you don't have to spend time finding one that will work well (like you would have to do hunting for rocks)
fairly inexpensive
can be picked up at most home improvement stores nearby
Concrete Stepping Stone vs. Paver
These type of terms you need to be familiar with when searching the home improvement store. They can both be engraved inexpensively. Someone correct me if I am wrong, but I believe a paver is more commonly used when it is pieced together with other pavers to build an outdoor floor or walkway. Where a stepping stone looks good when it is spaced out to create a walkway to step on. Either one of these should work but a stepping stone might look best as a yard decoration on its own.
Gilly shared the below details on his work and photos:
The Jesus is on granite piece. Cowboys logo on a garden step stone 16″×16″×1″. Horse is done on concrete slab.
Thank you so much for sharing your work and ideas, Gilly! Anyone else, please leave him a comment or questions below. Also, if you have other great ideas, please share it below. Thanks all
---
Share this on social media or email by clicking below!