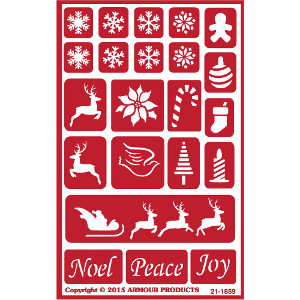 This stencil sheet is Christmas and winter themed. It comes with many designs, such as different shaped snowflakes, gingerbread men, ornaments, candy canes, deer, a dove, flowers, stockings, candles, a tree, reindeer pulling a sleigh, etc. Also on the stencil sheet are three words that are associated with Chrismas: Noel, Peace, and Joy.
Specs: 5″x8″ reusable adhesive-backed stencil sheet; used for painting, cream etching and light sandblasting (recommend fine grit 180-220)
Product ID: 21-1659 – ONO Holiday Baubles
Price: $6.49
---
Share this on social media or email by clicking below!