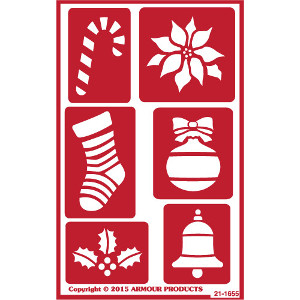 Beautifully crafted glass etching stencil sheet to use for all your christmas holiday designs ideas needs. Great for etching holiday designs on an object of your choice but read the instructions. And perfect for when setting the table with a christmas theme for your guests and family to enjoy. Etched holiday designs of a candy Cane 1.5 x 2″ inches, a poinsettia 2.25 x 2.0 " inches, a stocking 1.2 x 2.75″ inches, a lovely ornament 1.5 x 2.0″ inches, a bell 1.5 x 2.0″ inches and the holly 2.0 x 1.5″ inches.
Specs: 5″x8″ reusable adhesive-backed stencil sheet; used for painting, cream etching and light sandblasting (recommend fine grit 180-220)
Product ID: 21-1655 – ONO Christmas 2
Price: $6.49
---
Share this on social media or email by clicking below!