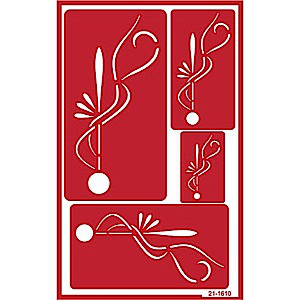 This beautiful, red glass etching has a subtle asian influence that would look good in any room of your house. Even though all four images are the same, the difference in size and placement keeps the eye busy and intrigued. Bedroom, Living Room or Dining room, this sketch will be a delight to look at for years to come.
Specs: 5″x8″ reusable adhesive-backed stencil sheet; used for painting, cream etching and light sandblasting (recommend fine grit 180-220)
Product ID: 21-1610 – ONO Deco
Price: $6.49
---
Share this on social media or email by clicking below!