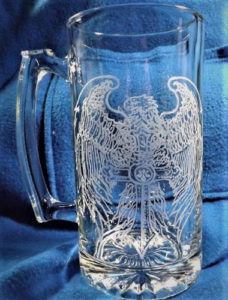 Our latest featured etching project was submitted by Suzanne Travelstead! She does engraving with a Dremel tool. This is another way to etch designs into glass which I don't talk about enough. I am not sure which Dremel model she uses and there are different types, but I found one on Amazon here.
Susan's projects are quite interesting.The first one she shared is a design of an eagle mixed in with a Celtic cross.
The second one below features two mugs that were Dremel engraved with eagles as well, but they also have gold coloring. She provided the below information:
My name is Suzanne and I do Glass Etching with a Dremel. Here is one of the most challenging pieces I have done recently (the Celtic Cross with an Eagle on a Large Mug). Also posted is another Eagle I did 4 years ago….also done by hand with a dremel. All the etchings I do are "Custom" and/or "Unique" designs. Hope you enjoyed looking at my work 😀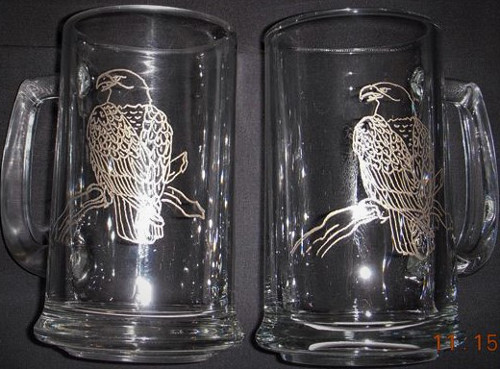 I hope this gives you some ideas and motivates you to create some interesting etchings yourself. Thank you for sharing with us Suzanne! Please leave her some comment love or questions below.
---
Share this on social media or email by clicking below!