To start the process, it all begins with the pattern & stencil material. You will need to make stencils from a black & white designed pattern that will resist areas of the glass that you don't want etched. Exposed areas of the pattern will be etched to create the image. Now, let's look deeper here to examine the different methods.
Acid Cream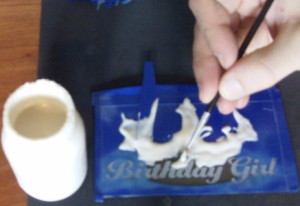 The majority of people looking at doing this craft use the popular acid etching cream. This is because it requires only a few cheap supplies that can be purchased at a craft store. But this process isn't the most interesting in comparison to other ways discussed throughout my down-loadable information manual and by reading below.
Sandblasting Glass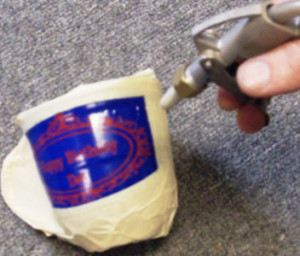 Not only is the sandblasting method more noticeable, but you also have a lot of possibilities with it when used with sandcarving and shading techniques. It is becoming the most recognized by hobbyist and artists for its beauty. The only discouragement is it usually requires expensive equipment to operate. Hey, but you're in the right place, because I created Glass Etching Secrets to help people save money and learn abrasive etching with professional or advanced methods on a budget.
Hydrofluoric Acid
Some people think the acid cream is the same substance as hydrofluoric acid, but they really aren't exactly the same thing and I like to categorize them separate to help distinguish them from each other. Let's get our facts straightened.
Hydrofluoric acid is an extremely dangerous chemical, and the acid cream is a much safer process which is why it is more popular in the huge craft market. You can read more about this acid type and the dangers that I mention throughout the website.
Engraving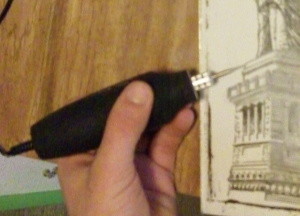 I like to categorize this differently from etching. Engraving is more widely recognized as a process using motor-powered utensils. This can be done by using a copper wheel or an electric rotary engraver tool to custom design your objects. It produces a distinctly different look in comparison to the other methods. The effects are usually more sketchy looking, like that of a pencil drawing. It looks like this because a rotary engraver uses a rotating tip powered by electricity. Typically, it is done through the use of tracing a sketched pattern that is placed behind the glass. Since most glass is transparent (unless it's very dark colored), you can see the pattern easily.
---
Share this on social media or email by clicking below!