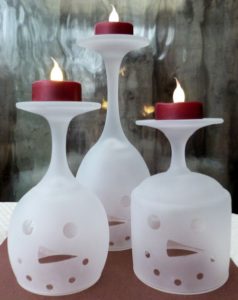 Sheila Knight shared this fun holiday etching with me earlier this year after we posted Tracy's reverse etched Christmas project here. Sheila was nice enough to feature it here. I wanted to wait until the holiday season started so I am sharing it today to give you some festive ideas.
She basically reverse etched some mismatched glasses to represent a snowman. The stencils can easily be cut out from stencil material by hand. You could also use a cutter for more precise stencils or use our reusable snowman stencils many times over.
Then she turned the glasses upside down to make candle holders out of them. Very cool! She add the below:
This idea was inspired by Bill Erikson, a fuser friend of mine. We gave this set as an extra present to our daughter's family for Christmas. It was well received and very effective!
Making Christmas decorative items to display in the home has always been a favorite thing to do. Etching glass is great because the white etched areas looks elegant and resembles a snowy Christmas or holiday season.
Our Christmas themed multi-pack stencils
Our Christmas themed multi-pack stencils has always been a favorite with the:
Please Leave Some Comments Below or Share Ideas
I hope you liked Shelia's easy and fun holiday themed etching. Please leave her a comment below or feel free to share your holiday projects.
---
Share this on social media or email by clicking below!