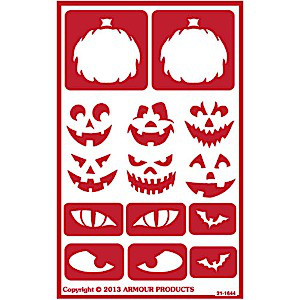 This is the Good and new one really I love it very much than the old other ones. There are going to be very useful one for me in my studies by this I can save my time also do make some fun play with this stencil. Pumpkin design and some more birds design and some funny images are also found in this stencil which is going to be very fun. Etch according to the directions inside of your stencil package. Pumpkin:2″ x 2″ Eyes:0.5″ x 1.5: wide Bats: 0.5″ x 1.0″ wide, these are going to be very good and useful for many professionals.
Specs: 5″x8″ reusable adhesive-backed stencil sheet; used for painting, cream etching and light sandblasting (recommend fine grit 180-220)
Product ID: 21-1644 – ONO Halloween Faces
Price: $6.49
---
Share this on social media or email by clicking below!