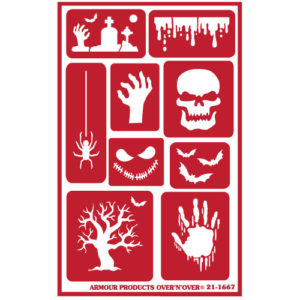 Halloween/Spooky themed stencil. Nine unique designs: 1. Graveyard with zombie hand. 2. Dripping slime/blood. 3. Spider on string. 4. Spooky hand. 5. Skull. 6. Creepy stitch-lip face. 7. Three bats. 8. Eerie tree and bat. 9. Bloody handprint.
Specs: 5″x8″ reusable adhesive-backed stencil sheet; used for painting, cream etching and light sandblasting (recommend fine grit 180-220)
Product ID: 21-1667 – ONO Halloween
Price: $6.49
---
Share this on social media or email by clicking below!