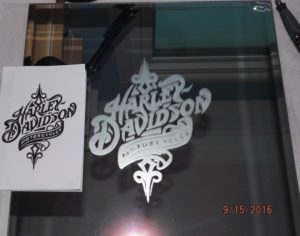 I am happy to share another engraving from Suzanne Travelstead! See her previous dremel engravings here. She was nice enough to share the details on how she engraved this Harley Davidson mirror. I have sandblast etched their logo before, but can't find the photo.
It is interesting to note that she mentions that she got permission to use the logo after making some changes to it. This brings up the point, that you should always ask permission from the company if you plan on selling your work or else it would infringe on their copyright. It is great to see that the Harley Davidson motorcycle company was nice enough to allow this with a few tweaks. I imagine the professional sports team logos are the least lenient organizations to allow this sort of thing.
Anyway, she shared the below about how she engraved it:
The logo is designed by Harley Davidson and I got permission to etch it as long as I make a few minor changes from the original. I drew it on the mirror with a Sharpie (free hand) and then used my Dremel with the 7105 & 7503 Diamond Ball Tips and etched over my drawing on the mirror. This was the largest etching I have ever done and am about to etch another one with a Personal Message on it for a customer.

All etchings I do are "Custom Orders". I do not keep any etched inventory only Clear Glass, Picture Frames and Mirrors on hand for all my customers to chose from for their custom order.
This is a cool looking logo by the way. I have never seen a Harley Davidson logo look like this, so I am not sure if it was altered more than a few tweaks. Overall, it looks good!
Thank you for sharing Suzanne. Please give her some comment love or questions below.
---
Share this on social media or email by clicking below!