Cheryl
was nice enough to share some of her projects with us recently. I haven't seen as much rotary engraving work done on mugs and rocks, so I thought this was interesting to share some ideas. I typically use
sandblasting techniques
to engrave mugs as
explained in the member's area
.
One of her projects was using a high speed engraver to carve through a ceramic mug, as seen on the left. Many mugs like this have a colored glaze coating which reveal a white ceramic material once engraved. The contrast of white against a colored glaze makes designs really pop out and is different than the typical printed mug. Much cooler in my opinion!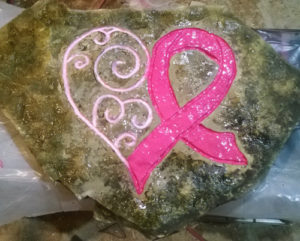 I've never tried rotary engraving rocks, but she shared this project also for breast cancer awareness. Engraving larger rocks would probably be easier to do with the sandcarving process, but I think rotary engraving would be great for smaller, fine grain stones. Another idea to think about.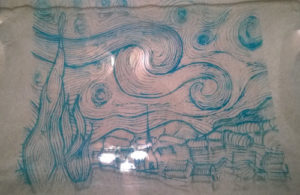 The third item she shared was a clear glass plate that was sandblasted with a mini blaster and colored with pinata. I have been hearing about pinata paints lately and their use for coloring etchings but haven't tried them. They can be seen on Amazon here: http://amzn.to/2nrriTn. If you used those and my stained glass paints, please let me know how they compare.
Cheryl also shared the below details:
I sand blasted the plate with pencil sand blaster and colored it using pinata colors. I used photoresist for the design. I hand carved the rock using a dremel used rustoleum paint for color and pencil blasted and hand carved with 400sx carver.
Please leave Cheryl some comments or questions below. Thank you, Cheryl!
---
Share this on social media or email by clicking below!