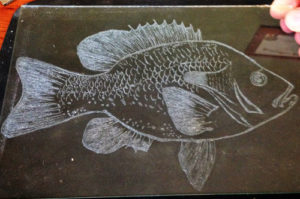 Because there was a lot of interest in Derek's diamond-tipped scribe engravings and I never tried it before, I wanted to post a simple beginner tutorial here on how to do it.
The 3 piece diamond-point engraving scribe set used in this tutorial can be found on Amazon here: http://amzn.to/2sg62m3
I first searched for a pattern online that had more of a sketching look to it. I found a fish design to experiment with which I believe is a bluegill. The design was resized to the glass size and printed out.
Tape the design to back of glass. I just taped the top side so that I could lift up the paper design and check on my progress.
Outline with small tip. Begin engraving by using the fine diamond tip and lightly scratch the glass by tracing over the design lines. This is meant to simply get the outline roughly into the glass so the other tips can enhance it later.
Enhance with medium tip. Then use the medium tip to enlarge the previous small tip engravings and add more detail.
Shade with large shading tip. Now you can use the larger shading tip to blend in and shade areas of the pattern. It will remove the rough edges and make the design stand out more.
Notes & Tips
Even small patterns can take a considerable amount of time engraving. If I remember correctly, each tip took me around 30-45 minutes to engrave.
This can be rough on the hands, especially when engraving hard glass that requires you to press harder. You may want to stretch you hands before and occasionally during the project.
A softer glass is best because there will be less stress on your hands and won't wear out your scribe tips as much.
Get a small cup of water and occasionally dip the scribe in to wash off the glass particles. This will ensure it continues to be sharp in engraving and prolong its life. If you don't wash it off, you will notice glass particles will fill up the scribe and make it ineffective at engraving.
Other Pictures
I posted other pictures of the completed project below. The first is a view of the engraving without the black background and the second picture shows the pattern above the engraving.
If you have any comments or questions, please leave them below. Also, if you have any other suggestions, please let us know. Thanks!
---
Share this on social media or email by clicking below!