I started distributing glass stain paints awhile back which people have been enjoying on Amazon as shown here http://amzn.to/2dgVpdu , but I wanted to get more feedback so I invited a friend over to experiment with it as well. This was her first time glass painting so it didn't turn out perfect but this tutorial on how to paint glass will be great to get you started.
These permanent paints provide a vibrant translucent color finish that looks almost like real stained glass. They work great for coloring in your etched glass or for making faux stained glass.
Here are some beginner instructions to follow below.
1. Clean Glass: It is best to clean the glass with a paper towel and glass cleaner that doesn't leave streaks. You can also use diluted rubbing alcohol. This will ensure there is no grim or oils on the glass so the paint can adhere well.
2. Find Stained Glass Pattern: Since I haven't used all my circular glass sheets (which I got for free using this technique here), we decided to use it for painting.
So we looked for a round stained glass pattern, resized it in photo editing software, and split it up in half to fit on two printouts of 8.5″x11″ sheet of paper.
Then we just taped those two papers together and placed it behind the glass. You can also find stained glass pattern books on Amazon here.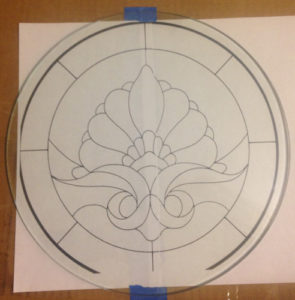 3. Simulated Leading: With the pattern behind the glass, you can begin tracing over the lines with what we call liquid lead which resembles lead lining of real stained glass.
This can be tricky to get a smooth consistent line out. It was her first time so it wasn't perfect but with a little practice, it isn't too hard to get smooth lines. Be sure to have paper towel nearby to wipe the tip clean when the material builds up.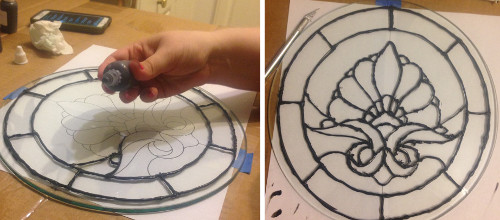 You will undoubtedly mess up a few lines. Don't worry about it, because you can let it dry and use a razor blade to trim up and scrap off the excess lines.
4. Figuring Out Color Scheme: At this point, we recommend pre-planning by coloring in the paper pattern to help guide you while painting. This will help you visualize what it will look like and change your mind on the color scheme before you begin painting. As you can see, she filled in some areas with a color and changed it by writing the preferred color later on.
5. Begin Painting: After you let the simulated lead dry at least for 20 minutes, you can begin painting the glass. We used small bristle brushes but I later found out that for small projects, Q-tips work well. These are great because you don't have to spend time cleaning the brush with Acetone or Lacquer Thinner in-between colors each time which is frustrating. Since Q-tips are inexpensive, you can just throw them away after each use. If you do use one brush, it is best to start with the light colors and work up to the darkest last.
6. Once finished, let it dry and display where ever you'd like.
If you paint on glass, whether you use my paints or other brands, I would love to feature you and a photo of your work here on the blog. Just send it to me via email or through this form here.
---
Share this on social media or email by clicking below!