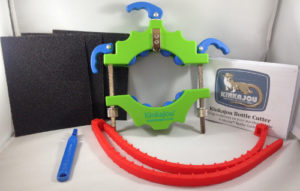 One of the best glass bottle and jar cutters I have found out there. The Kinkajou is the first of it's kind bottle cutter that is quick and easy to use, while reducing frustration when cutting because it makes a perfect, even cut most of the time. It is ergonomically designed to make cutting much more comfortable and save time. We are providing this cutter along with all the following supplies together in one kit:
Kinkajou Bottle Cutter
Three 80 grit sandpaper sheets for smoothing out the cut edges
Two rubber separation ties to help separate for the smoothest cut
A hand tool for prying off excess glass for those cases that an imperfect cut was made.
An instruction booklet
Note: We no longer sell these, but they can be found on here.
We now offer our own branded bottle cutter which we believe to work better with the basic kit here and the deluxe kit here.
---
Share this on social media or email by clicking below!