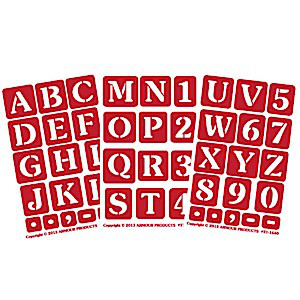 Over 'N' Over alphabet glass etching stencil sheet set features stencils for every letter of the alphabet, numbers 0-9, and punctation marks period, comma, and dash. Standard block fonts make these the perfect stencils for a variety of projects. Stencils also come in a 3 page form for versatility of use for both small and large projects. Dimensions for stencil letters are approximately 1″ high x 1″ to 1.25″ wide.
Specs: 5″x8″ reusable adhesive-backed stencil sheet; used for painting, cream etching and light sandblasting (recommend fine grit 180-220)
Product ID: 21-1638 – ONO alphabet 1 inch 3 pak
Price: $15.99
---
Share this on social media or email by clicking below!