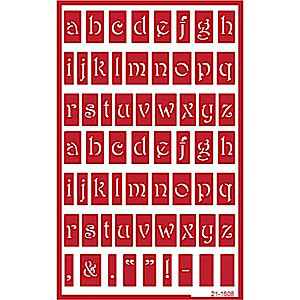 The are the letters of the alphabet. These letter are lower case and in somewhat in a script fancy. Narrowest letter- 1/8″ wide Widest letter- 1/2″ w All letters- 5/8″ high. The the special charters include are , & . " " ! –
The item number is 21-1608. The designs are white with a red background color.
Specs: 5″x8″ reusable adhesive-backed stencil sheet; used for painting, cream etching and light sandblasting (recommend fine grit 180-220)
Product ID: 21-1608 – ONO Lowercase Alphabet
Price: $6.49
---
Share this on social media or email by clicking below!