Video 1: Inexpensive Glass Items to Etch & Sandcarve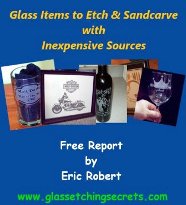 Download the free report and save here.











WOW- I didn't realize I said "COOL" so much. Lol, sorry about that. Hope you can see past that and get some helpful information out of the video. Anyway please leave a comment and click the social media buttons below for future reference & to share it. Thanks!