Glass Etching Secrets Ebook Download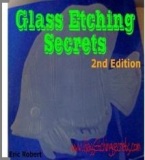 Sandblast Etching Section:

Sandblasting Basics
– Explains the basic sandblasting/ sandcarving process, different types of sandblasters, lists of inexpensive sandblasters to buy online.

Standards Guide for Sandblasting Glass
– Goes over standards used in the industry such as air pressure settings, sandblaster tip sizes & types, nozzle configurations, abrasive types, abrasive grit sizes, typical blasting distance, and air compressor charts/ requirements.

Abrasive Containment & Cabinets – Discusses options to contain the sandblaster abrasive and easily recollect. Also, discusses the sandblaster cabinet and inexpensive dust collectors.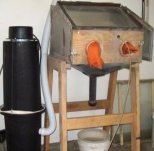 Sandblasting Cabinet Plans – Shows plans on how I made my own cabinet with ideas and resources from others.

Plans for Building a Flat Glass Stand – Section talks about using easels for artistic blasting, making your own flat glass stand for sandblasting with plans, and how to improving visibility.

Tutorial for Sandblasting Glass
– Video series showing the process of etching glass with sandblasting equipment. 2 videos showing the sandblasting process and the other showing  stencil removal & cleanup.
Chemical & Cream Etching Section:
Engraving Section: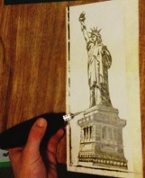 Basic Rotary Engraving Tutorial
– Shows a basic tutorial on how to do the simplest type of rotary engraving, with inexpensive tools and lists a abundant source of free & large patterns to use.
More Coming Soon….
Types of Engraving:
copper wheel engraving
Point engraving
Stipple engraving
drill engraving
---
Stenciling Section:
(For both Cream & Sandblasting Etching)
Stenciling Basics
– Discusses the most basic stencil cutting method by hand. Materials needed, ways to outline pattern for cutting, & step by step tutorial.
---
Other Tutorials Section: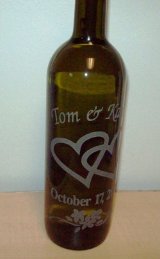 Wine Bottle Gift/ Etching Idea
– This shows a tutorial that you can get an idea of some of the creative things to etch. These would make great wedding, birthday, or anniversary presents.


Cutting Glass Properly with Tutorial– Shows how to cut glass without it breaking and to easily cut with the correct supplies.
---
Other Pre-Video Section:
These are the videos you may or may not have seen before signing up for the membership area. They further provide etching project ideas, explaination of types, & my views on what etching equipment you should get.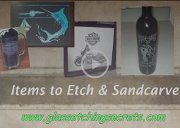 Items to Etch & Sandcarve
– Video on the different types of glass items you can etch with various project ideas. Plus- a downloadable report.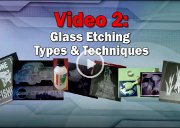 Etching Types & Techniques– This video explains most of the differnet etching types and techniques that you can do in this industry.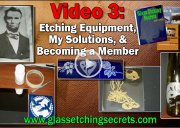 My Views on Selecting Equipment & Budgeting– Explains my views on selecting equipment for those on a budget and starting a business. Disregard the info about signing up, since you are already a member.
Module 1 Summary: We explain the basics of sandblasting & cream etching glass. You should figure out what sandblaster is ideal for you, standards, and more. Content is now available for private members only.
If you can't see the content, please log in to the right. Thanks!