Module Designated for Stenciling, Designing, & Patterns
Stenciling & Computer Software– List of different ways to use your computer software for creating stencils. Explains: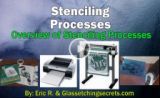 Stenciling Processes Overview– Discusses the overview of different stenciling processes that you can use such as tracing stencil method, print on stencil method, machine cutting method, & photoresist method.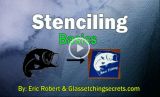 Tracing Stencil– This was shown in Module 1. For the simpler stenciling process using tracing & graphite paper, you can refer back to the Basic Stenciling Tutorial here in Module 1.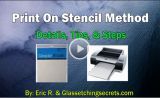 Print on Stencil Method– Explains the benefit instead of using tracing paper. Shows the basic process, materials needed, & tips when printing.

Craft Cutters
– Page talking about using a craft cutter, custom designing your own patterns with third party software, and a list of small craft cutters that you can use.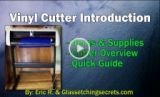 Vinyl Cutter Introduction
– Shows a brief overview of the vinyl cutter and provides information on selecting a vinyl cutter for surface etching or sandcarving. Lists low cost & professional grade vinyl cutters.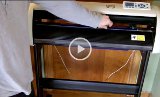 Vinyl Cutter Tutorial
– A step by step tutorial of how to create a stencil from creating a vector pattern from a raster, to applying the stencil onto the glass.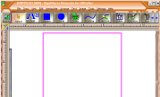 Cutting Software & My Free Recommendation
– Explains more about my suggested free vinyl cutting software, how to crack the code to get the full version, and other fixes for this software.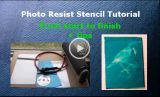 Photo Resist Tutorial
– Step by step tutorial on how to produce a photoresist starting from software to developing the stencil.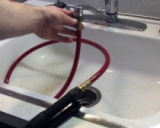 Connecting Washout Nozzle
– How to connect a washout nozzle to your sink with different threads.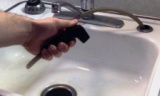 Inexpensive photoresist Washout Nozzle options
– Ways to cut cost of using a washout nozzle.
Software for Designing Stencil Patterns– See what software can do for you to help easily and professionally create or edit designs used for glass etching. What it can do to help with resizing, rotating, adding text, editing, & cleaning up a pattern. Typical helpful tools.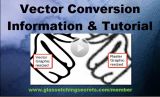 Vector Software & Information Tutorial– Information on how to use the free vector software for quickly and inexpensively tracing patterns automatically.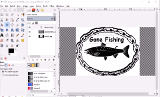 GIMP Tutorials– Information on basic graphic design software you can use to edit your patterns before making a stencil out of them.
---
Other Tutorials
Sandcarving