Etching Different Types of Glass
For this module, I plan on talking about the different types of glass that you can etch in terms of shapes and different manufactured types to etch. I will also, list resources and inexpensive items that you can etch to make a good profit from.
LED Lighting Techniques
Then I will discuss ways to really make your etchings stand out. This can be used to enhance all types of etchings with LED lighting techniques and the use of stands.
I will show you resources for very low cost LED light to help save you money and tutorials on how to set it up. Plus an example tutorial from the start of sandcarving a large framed glass to installing the LED.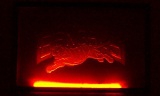 LED Light Tutorial for Etchings– Step by step tutorial of my latest project of creating a LED lighted sandcarving out of a picture frame. These add a significant amount of flare to any etching or sandcarving.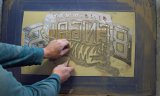 Sandcarving Glass Sign– Tutorial showing how to cut glass for a wooden picture frame and the steps involved with sandcarving the glass.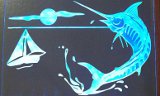 Etching Acrylic LED with Inexpensive Source– This tutorial shows how to etch on acrylic and where to by inexpensive blanks that I tested.