Dana Long shared these photos of mirrors engraved from the back side and lit up with LED lights for both businesses and personalized gifts. She stated they were done with the Dremel tool which is another way to get through the painting and silver backing in addition to ways I mentioned in using the sandblasting or chemicals.
Not only have I never talked much about using a rotary engraver to do this, but her work also brings up a new idea that I haven't seen by integrating an actual photo into the project which is behind the glass mirror. She told me she used a dremel rubber bit to remove the backside. To remove the mirror backing, you might be able to use the chemical process to cut it out for photos to shine through or by making her own mirror as talked about in the member's area.
Either way, this is such a cool idea to create a personalized gift! It appears the led behind the mirror even outlines the photograph.
Her other projects shown below are just as cool. She also shared these brief details:
Engraving mirrors and glass. Photographs or personalized pictures for individuals and / or business owners. Plus secret feature…. Lighted and colored.
In the left example, she engraved a mirror sign behind a mirror, then added led lights to light it up. Much better and artistic than those neon light signs, wouldn't you agree?
Example on the right shows a personalized engraving in an decorative oval mirror of a horse and owner. Great gift idea for pet and animal owners!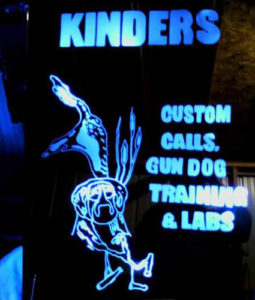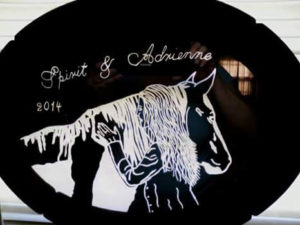 I want to personally thank Dana for sharing her work and ideas. If you have any questions or would like to leave some comment love, please do so below. Thank you all!
---
Share this on social media or email by clicking below!