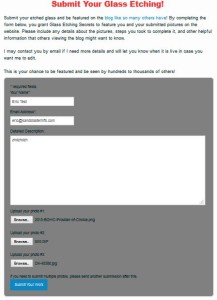 I am rather excited to share with everyone the new website which has many upgrades:
It is now mobile friendly so you can view the website better on mobile and other screen sizes like tablets.
We are now featuring the blog posts on the home page!
You can now submit your etched glass or any type of sandcarvings through the easy form here.
Lately, many people have shown an interest in sharing their work and others love seeing it, including myself! It also allows others to see and support your work. We are, after all, working to create a helpful community that expands ideas to each other. Submit anything from simple projects or ideas to advanced artwork.
I also need your help/feedback. There is a lot of work for me to do on updating the site and fixing things. What would you like the site to have or do? What issues do you see or things that you don't like about the site?
Please leave me your feedback below. I would appreciate it!
---
Share this on social media or email by clicking below!