Gilly Saucedo recently sent me a bunch of interesting etched photos of his work and he was nice enough to allow us to feature him. I picked just some for this post and will share others in a different post.
I've been meaning to discuss the idea of photoshopping real life pictures into street art-type stencils and then etching them. Since he shared a lot of these types of photo etchings, it would be good to discuss a little bit about this process too.
Most of these he shared seems to be photos that were transferred into a gray or black and white scale in a photo software like Adobe Photoshop. This process usually requires additional edits too clean it up with tools such as the eraser, pen, and paint. You can also adjust the color levels to transform color photos into a black and white street art type stencil design.
Transferred Personal Photos into Etching Designs
As you can see from the below examples, Gilly shows that he took personal photos from the computer and made designs into them to etch.
Other Famous People Transferred into Etchings
Gilly also shared these projects he etched of famous people based off of photographs. Some includes John Lennon and John Travolta from the movie Grease, I believe? If anyone else plans on doing this, you can search online for stencil designs already complete of famous folks.
Stencil Art of People Etching
Gilly may be able to provide more information on these, but these etchings appear to be based on stencil art which a designer drew up specially for projects like cutting sign vinyl art. There may have been based off photos but manually drawn in photoshop or illustrator.
Etching Halftone Photos
Last but not least, Gilly also showed this example of a halftone which shows the actual photo the etching was based off on the right. The halftone process is something that is more well know for most sandblasting etchers and we discuss it in the members area too. This process also involves converting pictures in software like Photoshop but with a different conversion technique to make it into small dots and requires the photoresist stenciling process.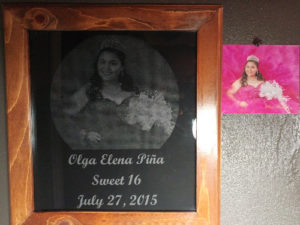 Gilly thank you so much for sharing your work! It is much appreciated!
For anyone else, please leave any comments below for me or Gilly, as he deserved some thanks. Now, this site has discussed 4 different methods of etching photographs: the above street-art type stenciling & halftone, sketched stenciling and shadeblasting.
---
Share this on social media or email by clicking below!