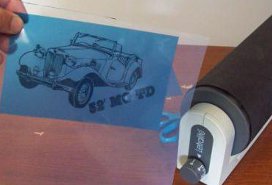 Although the photo resist stencil has been used in the industry for decades now, it is increasingly becoming popular these days, because of the growing industry.
Read more about the steps below to learn how to create a photo resist stencil….
---
Developing Process
First, the process works by designing a black & white pattern and printing it out onto a clear transparent sheet.
Then a light sensitive photoresist material is exposed with a ultraviolet light source while the design printed transparent sheet is placed on top. When the light goes through the clear areas of the transparent sheet, those areas of the photoresist are hardened. In contrast, the black printed areas will block the light from hitting the photo resist's surface and keep it soft. (Although most brands are manufactured this way, there are some that are the opposite in a vice versa fashion.)
Once the photo resist has been exposed with the design, you have to develop it. Most sheets are manufactured so that you can just use water from your faucet. To develop the resist, it has to be washed off immediately with water. A light pressure is usually needed to help wash off the un-exposed areas of the resist. The soft areas or black areas of design will be the parts that wash away.
After the stencil is developed, all you need to do is wait for it to dry a little bit and place onto the glass. A carrier sheet will need to be removed.
Costs
I am not a huge fan of the photo resist process because of how expensive it can be, but I highly recommend it if you are doing either:
Multiple etchings with identical stencil patterns.
Etchings with extremely fine details such as halftones or photo etchings.
Or are etching smaller glass projects.
One sheet sized at 12 inch X 10 inch typically costs $8 dollars each. And that's just one part. You also need other supplies such as the transparent sheet, printer ink (which can be expensive if you use an inkjet printer), and other various items.
As you can estimate, it can become very expensive when it all adds up, which is why I suggest you use it only for the reasons stated above. There are much less expensive ways as I discusses in my book and I will eventually discuss some ways to reduce the cost of this process in our members only area.
---
Share this on social media or email by clicking below!