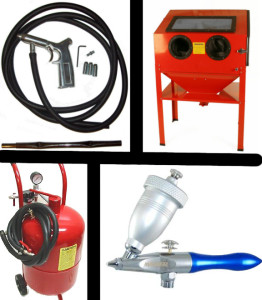 Many people ask me about "what type of sandblasting equipment is recommended to etch glass," and it really depends on what your goal is.
I discuss this in the ebook/membership site and occasionally throughout the blog, but I don't think I have explained it in one, concise, detailed post on this blog. After receiving the recent email below from Joy C., I figure it would be helpful to write it here for everyone.
I used the cream and have been so interested in sand blasting. I bought Armour sand etching just to see how it would do (the cheap way) before buying expensive equipment. I only do this for personal use–What sandblast equipment do u recommend for what I want to do?
You should first know the different types of sandblasting that can be done, pick the type that you want to do and get the correct equipment to do the job. The below are some of the sandblasting types with the equipment that corresponds:
Surface Etching
This is simple in a similar way to cream etching because it lightly marks the surface of the glass but is a bit more noticeable with a professional looking finish.
Equipment needed: Any sandblasting equipment, big or small can be used for this, but if you just want to etch the surface, you can just get a small, inexpensive blaster and air compressor. I often call these mini sandblasters as I discussed here. Since etching the surface doesn't require a lot of power, most people use the inexpensive siphon sandblasters. Here are some suggestions:
Surface Shadeblasting
This is similar to the above, except it is more advanced/artistic, requires much more thought, can be time consuming and requires you to subtly etch areas in various shades to create contrast to depict an etched image. The picture on the left is one of the first few that I did to experiment with shadeblasting, but you can also check out this excellent example.
Equipment: It requires a more specialized sandblaster than any typical blaster used for general surface etching. The sandblaster is typically small, hand held size with a fine tip to control where areas are etched.
Another advanced sandblasting process that is loved because it etches deep into glass for a very noticeable, elegant look which can be used with techniques known as stage blasting to create three dimensional art in glass.
Equipment: This requires a pressure pot sandblaster because it provides high pressures required to etch away at the glass, sometimes up to a half inch deep, in a timely manner. This equipment can sometimes be expensive, but if you follow the suggestions in my ebook or get a budget pressure pot as listed below, you can sometimes get a setup near or slightly more than the prices in the above types.
---
Share this on social media or email by clicking below!