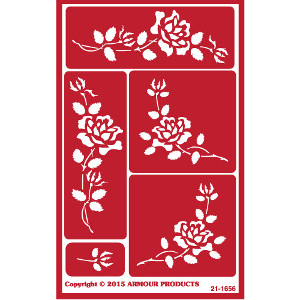 The image contains 4 pcs of fully grown roses and one bud.
These are traditional roses and mostly grown in thick soil. The petals of these roses expand out giving a very traditional and unique style. The length of the rose including the stem varies, for a long stemmed rose it will be 1.5 x 4.25″ There are different colors of these roses and the commons ones are Red & White. Other rare colors include, Light orange and yellow.
Specs: 5″x8″ reusable adhesive-backed stencil sheet; used for painting, cream etching and light sandblasting (recommend fine grit 180-220)
Product ID: 21-1656 – ONO Roses
Price: $6.49
---
Share this on social media or email by clicking below!