As always I appreciate everyone of my subscribers and visitors to this site. As a gift, I wrote up this ebook which describes the basics of sandblasting. Although it isn't written directly toward sandblasting for etching processes, some of its information may be beneficial to you.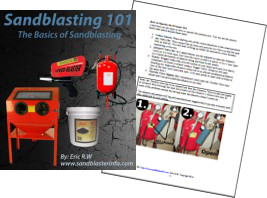 I wrote this for one of my other websites which mainly describes sandblasting in general.
The e book discusses first how to operate both a siphon and pressure pot sandblaster with photos.
Explains all the different types of sandblasters available and where you can buy some.
Discussion on types of abrasives and girt sizes.
To download this follow these steps:
Download it by clicking or right clicking the link: Click Here for Download
If right clicked, hit Save As & select a location to save it on your computer. If clicked the link, select the small Download icon in the top right corner.
Feel free to share this with others.
Thank you and feel free to ask me questions.
---
Share this on social media or email by clicking below!