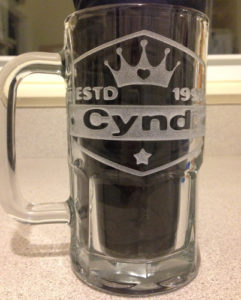 I recently did a deep sandblasting, which I sometimes consider single stage sandcarving, if it's a engraved a considerable amount more than surface etching.
This time I decided to test how the glass would look after blasting a very course aluminum oxide abrasive- I believe it was around 30-50 grit in my pressure pot system.
Traditional Abrasive Grit Recommendation for Sandblasting Glass
If you have been in the glass etching or sandcarving industry for a while, you may know that traditionally a finer abrasive is always recommended. Usually around 150-180 grit or even up to the finer 220 grit. This might be partially recommended because those ranges are typically needed when using the photoresist stencils, which many folks use.
In addition to that, other folks have always said finer abrasive was recommended because it looks better with its smoother finish.
Desiring a Smoother Etch or a Whiter Effect
In my honest opinion, the grit used may be a personal preference and dependent on what project is being worked on. So be sure to try a courser abrasive someday and let us know what you think. Just be sure to use a thicker stencil to hold up to a more course, aggressive abrasive.
When I decided to go off track from the typical recommendation and try a course grit a few years ago (I think at that time it might have been 70 grit), I realized my glass seemed to appear more noticeable and whiter.  This may be due to the larger nicks at the glass, causing a larger light refraction. Also, I personally think the more rugged etching provides more character with its texture and more of a work of art than something that could be done with automated machines like an laser engraver. Plus, a course abrasive does a better job of carving deep into the glass in less time and the technique of carving deep into glass is what leaves sandblasting as one of the most desirable forms of etching.
Since the 70 grit appeared to produce visually whiter etchings, I recently decided to test out my more aggressive abrasive that I have been using for blasting rocks. Like I said, I can't remember the exact grit I put in my system but I believe it was around 30-50 grit. The photos shown are the results from this experiment on a beer mug.
Downside to Using Extremely Course Abrasive Grit on Glass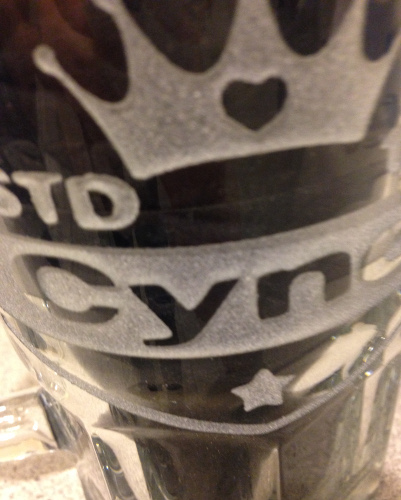 You might not be able to see it, but there are some flaws to this etched glass. What I found is that even though a thick sandmask stencil was used, the larger abrasive nicked the edges of the glass which the stencil was covering.
I believe this happened because:
Primarily, this abrasive may just be too course for glass. Even though the stencil was protecting the edges, the large beating of the abrasive created jagged edges which doesn't look too good.
The air pressure may be too high for the large abrasive. I believe I used around 60psi. Turning down the air pressure may help prevent the edges being chipped away, but I am not certain it will make a prefect etched glass.
The glass was carved too deep. Along with the previous point, you may be able to get a better etching with this course grit if it is blasted on the surface instead of penetrating deep in the glass because the more you sandblast, the higher the chance abrasive will nick the edges.
Conclusion?
With that said, using this extreme course of a grit, 30-50, may be too course for glass. Since rocks are porous and more crude, any little edges nicked won't show up so it is okay. But a grit for glass, I am not sure I would recommend anything courser than 70 or 60 at most.
Those are my thoughts and just based on one recent etching with a course grit. So I would be thankful to hear your thoughts in the comment section below. What grit do you use for glass sandblasting? Have you experimented with courser grits and what was your results like?
Thank you everyone!
---
Share this on social media or email by clicking below!