We have talked a little bit about carving designs into rocks in the past such as this simple example, a fun pet carved rock here, Russ' large boulders here and some listed here, Danny's landscape rocks here, Ernie's memorial headstone here, Glen's sculpture rocks here, and Cheryl's concrete blocks here.
Since this site is mostly dedicated to glass etching, we haven't talked about it in depth. But I figured it would be good to discuss more often because many etchers that come here use the sandblasting process (which is my favorite way) and this is exactly how all the examples above were carved. Anyway can do this with the right setup.
I think one huge market for anyone to get into is sandblasting pet memorials on rocks. My friend's beloved pet, a Pekingese dog recently passed away so I decided to engrave a rock for him, as shown above. The market idea didn't really dawn on me until after I sandcarved this project, but there is so much potential for this market since about 85 million families in the United States alone own a pet.
People really cherish their pets!
I seriously sometimes think it seems like people cherish their pets as much as other people, if not more. Before I even carved this rock for my friend, he spent money on having his dog cremated and put into a sealed, boxed urn which is on his mantel. I love our family dog as much as any other person, but I didn't know people went as far as cremating their pets.
The point I am trying to reach is most people have pets, cherish them, and are willing to pay money for their memorials which is why I think it's a great market. So it is one idea I would like to pass onto you if you'd like to get into business sandblasting, or if you do it for fun, this is one item you can make for friends and family that would be appreciated.
How to Engrave Pet Memorials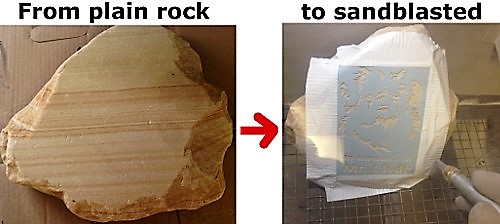 In collaboration with our sister site, we are now offering an ebook and membership area which explains all the equipment you need to carve items into rocks, the supplies needed with direct links where to get them, and step by step guides.
I am currently working on the module to be uploaded to the site on doing these pet memorials also.
You can sign up here now and get immediate access to the ebook and course online.

---
Share this on social media or email by clicking below!