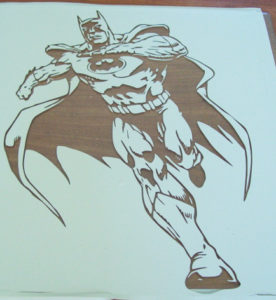 As you may know, I like to experiment with different types of etchings and patterns that I stumble across. Sometimes a pattern works out and sometimes it doesn't. A while back, I found an interesting batman pattern online using the search techniques discussed in the membership area. I used my cutter to cut out the stencil and applied it to the glass, as you can see.
Then I decided to sandcarve it with the double stage process, and as you can see below, I don't think this pattern worked out for multiple reasons including some errors of my own. However, if the first stage was sandcarved deeper, it might have looked a little better.
Earlier this week, I found this piece in a stack of test glass sheets that I etched and decided to experiment it further before throwing it in the trash. I basically rubbed this ebony (black) coloring into the etching.
It really made this 2 stage sandcarving look better! It still requires touch ups to make an even coat which can be a little tedious at times. If you spend a bit more time applying this rub n' buff, you can apply it at different shades into the etching to create amazing effects.
I thought this was an interesting idea to share with you all. If you have any questions or further tips, please let me know. Thank you
---
Share this on social media or email by clicking below!