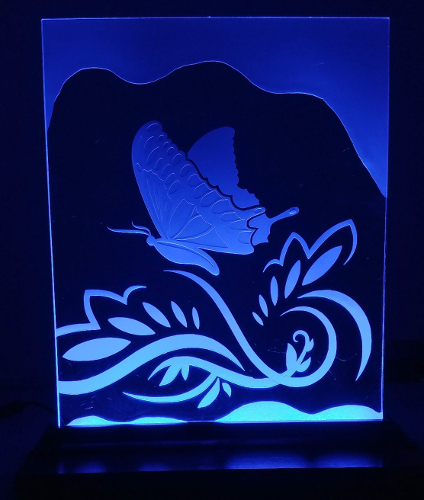 Gilly Saucedo sent over some of his latest sandcarving items that I thought were cool. He used some nice looking blue LEDs that were placed in glass holder stands and frames. I also want to discuss the interesting idea he used of sandblast-carving designs into LED glass stands. I have worked with these LED stands a little bit.
Sandcarving Plastic Glass Types without Burning
Tip: As you can see in his butterfly example, he used the 2 stage sandcarving technique done on a glass stand that is lit up by LEDs or Light Emitting Diodes. One thing I realized when doing these is if it is made out of a softer plastic glass, sandcarving deep into it can start to burn the plastic. It will be easier to carve into when using either some type of hard composite type of plastic glass or real glass. If you have a plexi-glass type, you have to make sure you aren't too aggressive in one area. It may heat up, slightly melt and turn black or brown in areas.
Gilly's Other Sandcarvings with LED's to Light Them Up
I am a big fan of his tribal skull design below also. It looks like he might have used some type of shading technique in this example.
Below are a couple other designs done with a Volkswagen logo.
I hope you all appreciated Gilly sharing his work like I have. Please leave a comment or question below. Thanks!
---
Share this on social media or email by clicking below!