Sandcarving is a process which allows you to carve into materials such as glass, rock, large stone, wood, and some soft metals. This is done by using a sandblaster, and a high powered one is usually required which is known as a Pressure Pot. The pressure pot sandblaster has more psi (pressure per square inch) blasting power because the air pressure and abrasive is contained in a sealed "pot" or container.
Side Note: When blasting at these high pressures, you typically need to make a stencil from a thicker material called sandmasks.
Sandcarving Glass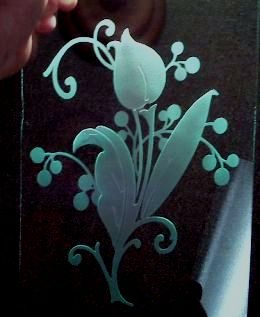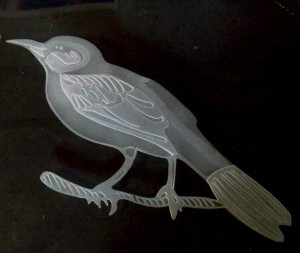 It has had a lot of interest lately in the glass art, craft field, & sign industry because there are some very interesting things that you can do with it. When glass is sandcarved with unique patterns, it creates an eye popping etched 3-d look. If you mix it with other techniques, you can create some very appealing designs. Listed below are some of the recognized techniques you can use to carve into glass:
The higher the stage, the harder it gets and the more artistic it can be. The shading techniques that I listed can be done with a regular sandblasting technique and a typical siphon powered sandblaster. It can be interesting to mix shading techniques with this. The photo above shows examples of a Two Stage project.
Sandcarving Stone
I'm not sure where stone sandcarving techniques originated, but my guess would be that it got its start from the memorial industry. After a rock or stone is carved, it is usually colored in with spray paint as seen in the photo below. This is typically done with the stencil in place so that the outside of the stone if masked off.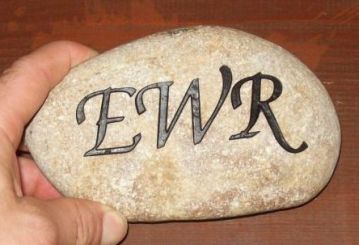 Next, I will be going into detail about carving glass and stone with a sandblaster in my download-able information manual. This shows you some of my latest sources and information on etching & sandcarving, along with my needed inexpensive equipment systems for those on a budget. You can get it on the Glass Etching Secrets page.
---
Share this on social media or email by clicking below!