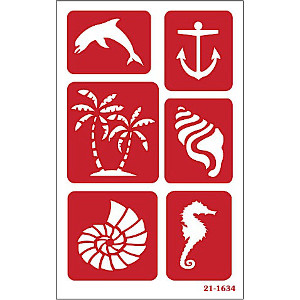 First desing on the upper left is a dolphin on the upper right stands an ancor.
In the middle section on the left are two palm trees on sand, next to them on the right is seashell.
In tho bottom line on the left is also a seashell but round one, on the final piece on the right is a seahorse.
All six of them are on the red background.
Specs: 5″x8″ reusable adhesive-backed stencil sheet; used for painting, cream etching and light sandblasting (recommend fine grit 180-220)
Product ID: 21-1634 – ONO Seashore
Price: $6.49
---
Share this on social media or email by clicking below!