Make a Mini Sandblaster Plans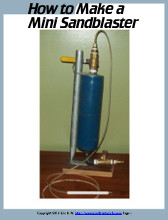 If you are at all familiar with etching with the shading technique, you will notice that you can blast some amazing pieces of artwork. To do shade blasting, you need a very small nozzle and a mini sandblaster is ideal when working with this techniques.
So I decided to write plans that shows you step by step how to make a mini sandblaster easily and inexpensively, while being maneuverable.
The great thing about these plans is that it makes a mini pressure pot which has more blasting power than most mini units sold, and it is air efficient. Another bright side of this system, is I show you how to make a variable nozzle so you can easily adjust the abrasive from your hands while shading.
You can even use this unit for other things such as fixing a small mistake after you used the larger blaster.
Parts/ Processes Involved
After spending hours troubleshooting problems, gather items, and experimenting with different parts, the material I explain here in a step by step fashion with pictures will do more than making it extra easy for you to make. The plans will also save you both money & hours of time buying and testing the perfect parts. The plans list exactly what the parts are and where to get them.
Ordering the Plans
Learn how to make these mini sandblasters with products you'll find at the hardware store and your garage. Order the plans and instantly get access to these right after submitting payment here! They are sold and downloaded digitally in ebook form. No special software is required to view it except Adobe Reader which is free (most computers already have it).
Or click the bright orange "Add to Cart" button below for only $4.99 and get instant access to the plans after payment.
100% Risk Free Guarantee:
If you are unhappy with the plans, I am offering a 60 Day Money Back Guarantee. Just email me for a refund if they don't meet your expectations.
Once your payment is approved by either the secure Paypal or Clickbank processor, you will be instantly redirected to a special download page. (Any problems, just email me)
If you need help, please email:

---
Share this on social media or email by clicking below!