How to Make an On-Site Sandblaster Plans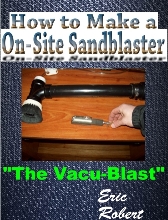 Learn how to convert your sandblaster into the portable on-site sandblasting equipment that I call the "Vacu-Blast." I have always wanted a dust free sandblaster like this, but realized they cost up to $2,000!
So I decided to experiment and make my own on-site sandblaster with the inspiration of a fan. These are surprisingly easy to make so I decided to write plans on how you can make these inexpensively too:
Save you a lot of money (these cost nickels & dimes to make in comparison to the manufacturers brand)
Save you a lot of time with documentation of where to get everything
What is the Vacu-Blast or On-Site Sandblasting Equipment?
If you are unfamiliar with this type of equipment, it allows you to sandblast glass or other items without a cabinet, and prevents abrasive from getting all over the place. It is abrasive/dust free sandblaster system which uses a vacuum to suck all the media back into a bucket.
This allows you to save time cleaning up and save money by easily recollecting every bit of abrasive.
Easy to Make?
This system is very easy to make with basic tools and most of the parts can be purchased at local hardware stores. If you find that it is too hands-on, you can also purchase my equipment.
Order My Plans
I wrote a step by step guide on how to easily make these. Order them today by clicking here!
Or click the bright orange "Add to Cart" button below for only $19.99 and get instant access to the plans after payment.
100% Risk Free Guarantee:
If you are unhappy with the plans, I am offering a 60 Day Money Back Guarantee. Just email me for a refund if they don't meet your expectations.
Simply click the bright orange button above for a desired option. Once your payment is approved by either the secure Paypal or Clickbank processor, you will be redirected to a special download page. This is where you will create a log in and be given automatic access. (Any problems, just email me)
If you need help, please email:

---
Share this on social media or email by clicking below!