Vari-Blast Sandblaster Footswitch Plans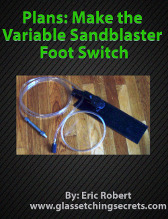 These plans are my latest creation which shows how to make a footswitch for the pressure pot sandblaster which I have named the "Vari-Blast". It is designed to:
Save people a lot of money on both start up & ongoing costs
Be easy to make
Give people a comfortable & easy solution when sandblasting
While providing variable abrasive flow which is controlled by your foot
What's Special About This Sandblasting Footswitch?
What this does is combines the variable flow functionality similar to what some of the expensive hand nozzles do with the ease of a foot operated switch. Many people have been telling me that those variable hand nozzles were very hard on their hands and that they would get tired way too fast. Well this footswitch solves that problem!
Watch the Video
I created a video which discusses more about this unit and shows it in use. Click to play the video below:

Easy to Make?
I designed these plans to be super easy to make by using inexpensive supplies found at most local hardware stores. Also, it is possible to use a special type of adhesive instead of welding. The ebook tells you exactly were to get this stuff so you don't have to experiment with materials and search around all day for them. After months of testing different materials and specifications, this information will guide you right away to create a working footswitch and save you a lot of headaches.
Order My Plans
You can order my plans which show you each step of the way how to make these footswitches. Order them today by clicking here!
Or click the bright orange "Add to Cart" button below for only $14.99 and get instant access to the plans after payment.
100% Risk Free Guarantee:
If you are unhappy with the plans, I am offering a 60 Day Money Back Guarantee. Just email me for a refund if they don't meet your expectations.
Simply click the bright orange button above for a desired option. Once your payment is approved by either the secure Paypal or Clickbank processor, you will be redirected to a special download page. (Any problems, just email me)
If you need help, please email:

---
Share this on social media or email by clicking below!