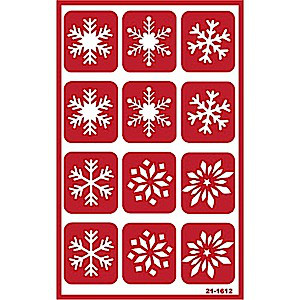 This 21-1612- Over 'N' Over Snowfalkes 1" dia Bottom right 1" w x 7/16 h is nice looking red colored glass etching stencil sheet. Nice designed with flower mark in three columns and four rows and have a rectangular shape border. The flower marks are different for each of the mark and have very eye catching view.
Specs: 5″x8″ reusable adhesive-backed stencil sheet; used for painting, cream etching and light sandblasting (recommend fine grit 180-220)
Product ID: 21-1612 – ONO Snowflakes
Price: $6.49
---
Share this on social media or email by clicking below!