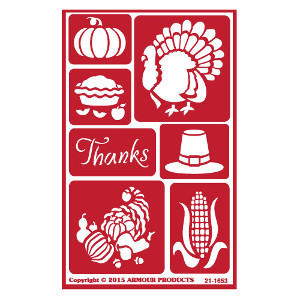 Over 'N' Over Giving Thanks glass etching stencil sheet includes 7 different designs. Not only great for Thanksgiving decoration they can be used for kitchen and cooking décor too.
Sizes are approximate. Pumpkin 1.5 x 1.25″, Turkey 2.5 x 3.0, Thanks 2.25 x 1.0″, Cornucopia 2.25 x 2.25″, Corn 1.5 x 2.25″, Pie 1.5 x 1.25" Hat 1.5 x 1.25".
Specs: 5″x8″ reusable adhesive-backed stencil sheet; used for painting, cream etching and light sandblasting (recommend fine grit 180-220)
Product ID: 21-1653 – ONO Giving Thanks
Price: $6.49
---
Share this on social media or email by clicking below!