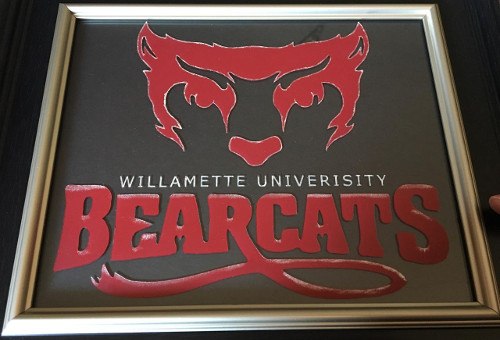 I am happy to share another featured etching this month which was submitted by Albert Myrstol ! After some of our posts about painting etched glass, he shared his method which used Martha Stewart's craft paints. I am not sure if he used their regular craft paint, but I did find that the company offers glass paint also here.
At first glance, it looked like this university logo might have been etched on a  mirror like this example, but it looks like he used a frame and inserted a glass piece. (Please correct me if I'm wrong– it can be hard to tell with mirrors angled).
Anyway, he provided the below details on this project:
This was a picture done as a gift for a young man headed to Willamette University. This was my first attempt at glass painting. I etched the image and then painted it with the stencils still in place. I used Martha Stewart craft paint not knowing anything about glass paint.
Thank you for sharing, Albert, as we can all learn different ideas and medias to use from each other. Please give him some comment love or ask questions below.
---
Share this on social media or email by clicking below!