In another way to explain it, while the vinyl cutter is moving along, doing its task, the blade then kinks up the vinyl which should have been flat. Anyone had this problem?
If this happens to you also, the reason behind it is:
High Force Blade Setting or Thick Material is Being Cut– The thicker the material you are trying to cut, the higher the down force setting you need to configure to allow the blade to cut all the way through. The problem is the blade is pushing down hard into the vinyl while moving. Many times this force causes the vinyl sheet to bow up which gets caught in the blade. Since many of us sandcarve with thick sandmask stencil material, we are more likely to have this issue even when using a 60 degree blade. But even thinner stencils sometimes have this problem.
Not Enough Structure in the Vinyl– To go along with the previous point, part of the problem is most vinyl or sandmask materials don't have enough structure, causing it to bend easily when put under a forceful blade moving quickly. If the structure of the vinyl or its backing paper was stiffer, this problem probably wouldn't arise.
Not Enough Rollers- Another point which also leads me onto my suggested logical solution is some cutters just don't have enough rollers to hold down the vinyl.

If you ordered the Glass Etching Secrets ebook, you should know I recommended some value cutters that worked great for the most part. However, only 2 rollers are provided to hold down the vinyl in place (I believe most have 3). They marketed these newer models as a benefit, for some reason, with a design that allows an opposite aimed fan to create a suction which helps hold down the center of the vinyl. The two outer rollers kept the vinyl on track.
Since there is no roller positioned in the middle, there is more of a likelihood for the vinyl to bow up.
Solution: Add More Vinyl Cutter Rollers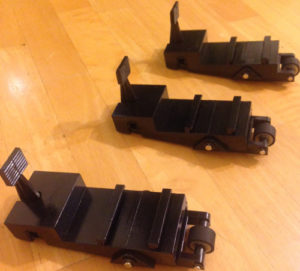 So if you do have this problem or cut thick sand masks, I found out that adding more rollers is a great solution to fix the problem of vinyl getting jammed. Rollers are both economical and easy to install more many units.
Where to Get Additional Rollers
I searched around at various websites for additional rollers for my vinyl cutter model. I found out that Ebay.com not only had the largest selection of vinyl cutter parts, but they also had the rollers listed at the lowest prices.
The listing I ordered from priced each roller at only $13.65 with free shipping from China. I probably only needed one or two, but since the price was fair, I decided to play it safe and get 3 of them. The total was less than $41.
How Many Pinch Rollers Do I Need?
I think it depends on how wide your cutter is and how flimsy the material is that you will cut. To give you my thoughts, I have a 24″ wide cutter and use a 22 mil thick sandmask that is 15″ wide. Though I ordered 3 extra rollers for a total of 5 on my cutter, I think 4 total would be plenty- but only 3 might be fine too. I would just be safe and use 4 total.
Easy Installation of Pinch Rollers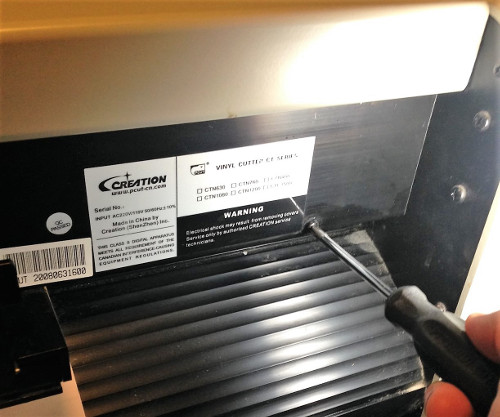 As I explained earlier, it was super quick and easy to add my additional pinch rollers! However, the process may vary for other brands. I originally thought I had to take the whole cutter apart to install them- but nope! All I had to do was remove a small screw on the back left side of the cutter. The screw served as a stop in the track which held the pinch rollers. Undoing the screw simply exposed an open area in the track which allowed me to align the new rollers up and slide them down the track one by one.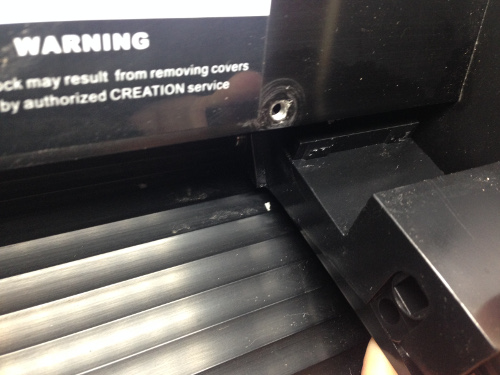 To do this, I tilted the front side of the pinch roller assembly up into the track, then positioned the back end up and slid it down. Be sure to use to apply some sort of grease like silicon or vaseline on the pinch roller assembly track, or else it will be tough to slide.
This Solution Helped Me!
As you can see from my photo, I now have a total of 5 pinch rollers holding down my sandmask about every couple inches and less problems! I am so glad I finally got around to trying this.  Please let me know if have problems with your vinyl bulging up in the comments below. I am interested to see if this helps anyone also.
A view of the back side with the 5 roller tabs.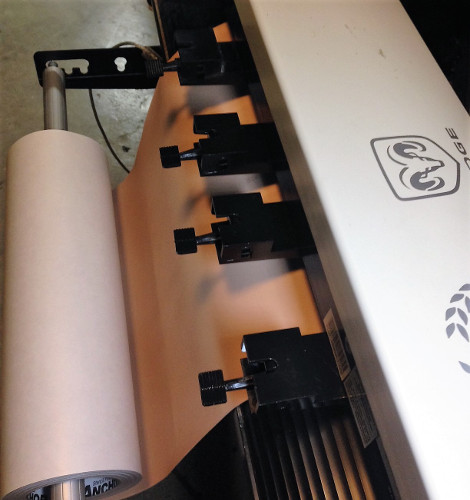 ---
Share this on social media or email by clicking below!

You may have a similar problem when your vinyl cutter starts cutting out a stencil or decal and the vinyl gets caught up in the blade so it wrinkles it all up. It is quite frustrating, especially when you are using expensive stencil material!