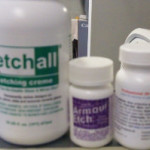 I don't use etching cream quite as much as sandblasting, but many people here use it and I enjoy experimenting to find the better products.
I also find it interesting to mix/combine cream with sandblasting or engraving as I will be discussing in the member's area here.
So it is something you might want to try out if you don't currently work with the creme.
Anyway, this post is to show my experiment that I did to compare a few different brands of etching cream. I cut three similar stencils of a marlin fish example, placed them on the same piece of scrap glass and coated them with the following brands:
An off-brand by Matronics Corp.
What I found out, as shown in this last image, is they all visibly looked fairly similar. As discussed in a few other places, one didn't seem to stand out more than the other so I don't believe one brand will give a deeper, whiter etch unless it has Hydrofluric acid in it.
However, there are some brands available that are faux creams which don't permanently etch in the glass but may market them as providing an etched-look so read about the product before you buy.
I went in depth about this experiment and listed a few different brands in a free ebook report which can be downloaded here.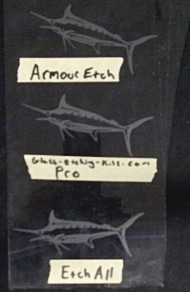 In terms of consistency, I do believe some brands are better such as Etchall because they are smoother and are less likely to provide a blotched etch. This is one reason why I sell this brand here and call it a premium etch cream. It is even more important to use a premium brand for larger projects and/or more surface areas that need to be etched because an inferior product usually leaves an inconsistent finish.
If you have found a brand that seems to work better or if you have questions, please leave them below. Thank you and I hope you enjoy that free report.
---
Share this on social media or email by clicking below!