Colored glass is one of the best types to use for etching for many reasons.  Listed below is some of the benefits of using it instead of clear glass.
Colored glass adds flavor to the art glass.  You know, everything that has color gives it some flavor and attracts the eye better.
Etching on colored glass makes the etched or frosted areas to stand out more.  If you etch on clear glass, sometimes it's hard to even see the frosted areas, especially if your using acid cream.

NOTE: However! I found that etching on some glass colors yields worse, less visible results as with this etched champagne bottle.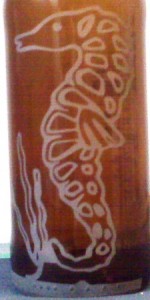 Pictured above is a brown glass etched, which helps highlight the frosted areas.  Eventually, I'll show a comparison photo with another example using a transparent piece of glass, so you can see the difference.  All together, it is a big difference.
Another way to spice up or enhance your etched glass masterpiece is by adding color to the actual frosted area.  You can use a variety of glass paint which I talked about before.  Actually, you don't even have to use a specialty paint for glass.  You can use ordinary paint as well such as spray paint or hand brushed paint.  When I paint glass, I usually leave the stencil in place before painting it.  This way you won't have to try so hard by keeping your strokes in-between the lines.  Just pull the stencil off after its painted to reveal the fine tuned coloring.
There are a variety of paint brands with many types that you can use such as acrylic, lacquer, metallic, and a few others.  Check out your local hardware or craft store to get some great ideas.  With a wide selection, you can mix and match different shades.
---
Share this on social media or email by clicking below!