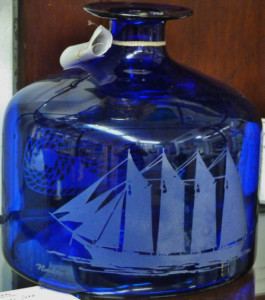 Nadina Piehl has been a subscriber for almost as long as I've had this website and she sent me these photos. She sent over a picture of:
• A blue glass jug with an etching of a ship on the front (great contrast).
• A pitcher etched with some oceanic scenery
• A glass bowl with etchings depicting a more lively oceanic floor
• A glass sculpture shaped like a fish with etchings all around it.
I thought these were interesting and will provide some great ideas!

She provided the below details:
Here are samples of my work. I am featured in a small local art gallery, and in the spirit of selling my work, I've been creating more usable items for home decoration/usage. I have been doing this for about ten years, mostly as a hobby and gifts for family and friends when approximately five years, I was invited to join the gallery. Hope you like my work.
---
Share this on social media or email by clicking below!