A new message came to me the other day from an unknown source that was wondering what designs I was using in one of my online videos.  Here is his question with my response below:
"I am looking for a good pattern book for stencils with primitive or country designs that I can use for making signs.  Do  you have any suggestions?  I viewed your youtube video, and noticed that you were using a pattern book.  I would appreciate any suggestions you can give me.  Thanks!"
Here is my response and I hope it helps you some as well: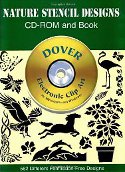 Hi, there are so many places to get patterns so I'll list a few places for you.  The book in the video is a collection of vector patterns (also in raster format as well) from SignTorch.  Its the Pro Realistic one. That has the most variety.  Some are decent, and others aren't the best.  Either way, SignTorch is a good price when you consider what you get from it.
Another place to look is a company called Dover. They produce many design types that you are looking for such as this one that I found. The picture is shown on the left.
A lot of times I just make my own vector graphics with a conversion program.  You can get graphics from places such as Dover and just convert them.  I really like this place called ExpressClipart.
Other than that there is too many to list.  There are a lot of free designs on the internet, and I provide links to all these sources and how to convert to free vector graphics in my info manual about etching: glassetchingsecrets.com/info.html.
I hope that helps.
-Eric
Update: I have now included a whole list of unlimited sources here in the membership only area.
---
Share this on social media or email by clicking below!