I haven't discussed rock carving much on this website, so I figured this post will share the idea and intrigue you. Some people call it rock sandblasting, rock sandcarving, rock engraving or even etching. The idea of this is to carve text, numbers, logos, or images permanently into a large rock or small stone. This is done by using a sandblaster, which is another benefit to sandblast etching; you can engrave just about everything!
I have done quite a few of these before, first by experimenting with it a few years ago, and then working for a local that had a small side business selling these rocks. I have been recently carving more of them lately and here is one that I have completed.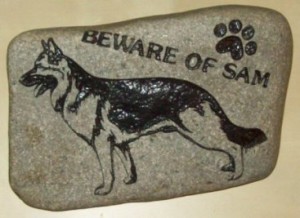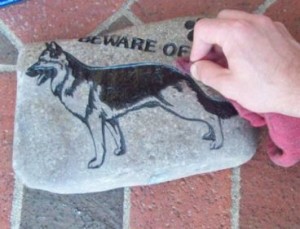 This was personalized for a co-worker with an icon that looked like her dog, text, and a paw print icon. I found all the graphics for free using my searching techniques and stencil processes explained in Module 2 here. This was a fun project and my co-worker tells me that she often gets positive comments from neighbors when they walk by on the sidewalk. She placed this in her front yard flower garden. These type of rocks are great for decorative garden ornaments.
Anyway, if you have any questions about this, leave a comment below. I will be putting together information and hopefully videos on how to sandcarve rocks soon. In the meantime, you can check out this unique stone carving from a fan.
---
Share this on social media or email by clicking below!